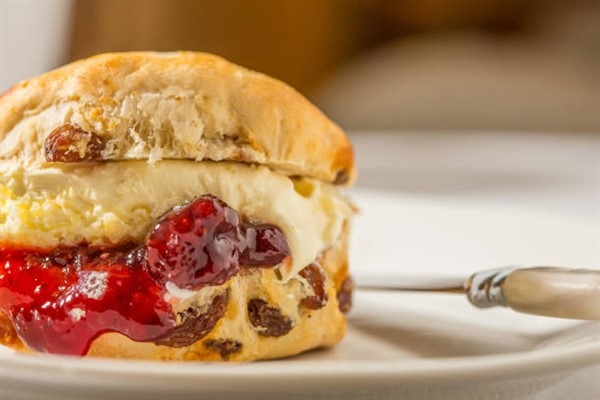 Introduction: London is a Scone Lover's Paradise
London, a city known for its rich history and diverse culinary scene, is also a haven for scone enthusiasts. The tradition of savouring freshly baked scones, served with clotted cream and strawberry jam, has been an integral part of Afternoon Tea and British culture for centuries. Today, this tradition lives on in London's tea rooms, grand hotels, and charming cafes, where you can find some of the best scones in the world. Join us as we embark on a scone-tasting journey to find the best scones in London. We exploring 10 Afternoon Tea venues renowned for their exceptional scone choices.
Innovative Scone Varieties
While London is steeped in tradition, it also embraces innovation, and this extends to its scone scene. Here, you'll find a creative blend of tradition and contemporary flair, resulting in unique scone flavours and creations that truly set the city apart. Let's explore London's best innovative scone varieties:
Creative Flavors: London's scone makers are known for pushing the boundaries when it comes to flavour. Instead of the classic plain scone, you can now savour varieties like pistachio and white chocolate, lavender and lemon, or even cheddar and chive. These imaginative creations provide a delightful twist on tradition.
Seasonal Sensations: Many London scone establishments craft scones to align with the seasons. In spring, you might encounter scones infused with fresh strawberries. Come autumn, you could indulge in scones with the warm, comforting flavours of cinnamon and apple. These seasonal sensations capture the essence of London's culinary creativity.
Gluten-Free and Vegan Options: In a city as diverse as London, it's no surprise that you can find scone options catering to various dietary needs. Whether you're gluten-sensitive or following a vegan diet, there are scone varieties tailored to your preferences, ensuring that everyone can enjoy this British delight.
Scone Hybrids: London's scone scene has also witnessed the fusion of scones with other beloved treats. For instance, you might encounter "crones" (croissant-scone hybrids) or "scuffins" (scone-muffin hybrids). These delightful combinations provide a fresh take on scones that are both familiar and exciting.
Afternoon Tea Evolution: Some high-end London establishments have reinvented the classic afternoon tea by introducing innovative scones. Alongside traditional scones, you can find scone variations like miniature scone sandwiches, savoury scones with unique fillings, and even scones served in a playful, bite-sized format.
London's innovative scone offerings truly reflect the city's culinary diversity and willingness to embrace new flavours and concepts while preserving the essence of tradition. Exploring these creative scone varieties is a delightful way to experience the evolving nature of British cuisine in one of the world's most vibrant and dynamic cities.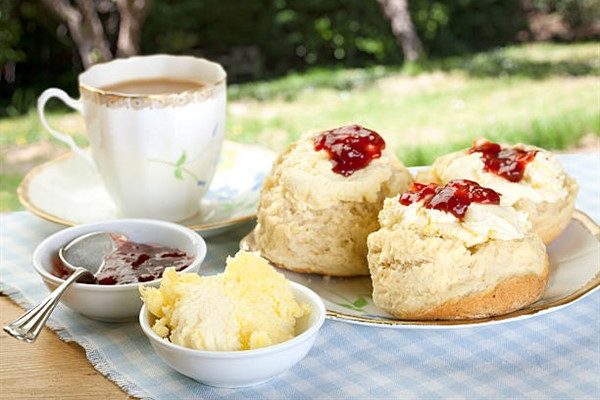 10 Afternoon Tea Venues to Enjoy the Best Scones in London
1. The Ritz London – Classic Elegance
In the heart of London's prestigious Mayfair, The Ritz is a name synonymous with luxury and sophistication. The Ritz's Palm Court, with its iconic Palm Trees and stunning chandeliers, is the ideal setting to enjoy classic scones. These scones are paired with clotted cream and preserves of the highest quality. The attentive staff ensure a memorable scone experience, making it a must-visit for those seeking classic elegance in their scone indulgence.
Afternoon Tea Sittings: Monday to Sunday: 11.30 am, 1.30 pm, 3.30 pm, 5.30 pm and 7.30 pm
Afternoon Tea Prices: Start from £72 for adults and £50 for children.
2. The Wolseley – Grand Café Charm
The Wolseley, located on London's famous Piccadilly, offers scones in a setting that exudes grand café charm.
Indulge in Afternoon Tea at The Wolseley, available every day of the week, whether you prefer the classic Cream Tea or opt for the bubbly Champagne variation.
Their scones are buttery, crumbly, and perfect when paired with a pot of tea. The spacious, marble-clad dining room adds an air of opulence to your scone experience. Whether you're visiting for afternoon tea or a quick scone break, The Wolseley's scones are sure to impress.
Afternoon Tea Sittings: 3.00 p.m. to 6.30 p.m. Monday to Friday and 3.30 p.m to 6.30 p.m. on weekends.
Afternoon Tea Prices: Cream Tea ~ £19.50 per person, Classic Afternoon Tea ~ £44.50 per person and Champagne Afternoon Tea ~ £56.00 per person
3. Claridge's – Art Deco Delights
Claridge's, an iconic art deco hotel in Mayfair, serves scones that perfectly complement the hotel's glamorous ambience. Their scones are made with precision, ensuring a delicate balance of softness and crumbliness.
Enjoy raisin scones and plain scones, served with delectable clotted cream and homemade preserves, these scones are a treat for both the taste buds and the eyes. Claridge's offers an exquisite scone experience that combines history, elegance, and culinary excellence.
Afternoon Tea Sittings: Served daily between 2.45 – 5.30 pm
Afternoon Tea Prices: Traditional Afternoon Tea £85 per person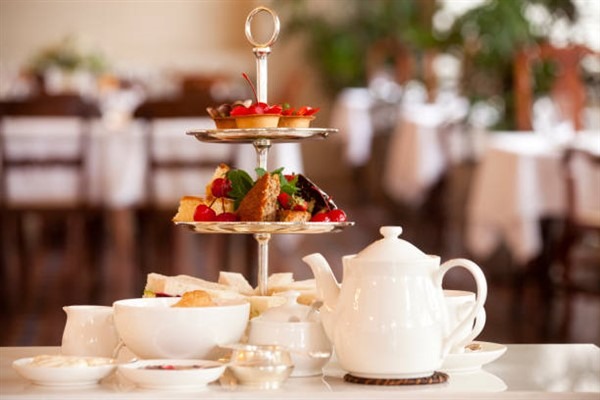 4. The Savoy – Thameside Treat
The Savoy, with its iconic location along the River Thames, offers a scone experience with unparalleled views. Their scones are classic and refined, a perfect match for the luxurious surroundings. Paired with the finest clotted cream and an assortment of preserves, these scones offer a taste of tradition with a hint of modern elegance. Whether you choose to enjoy your scones inside or on the Thameside terrace, The Savoy promises a scone treat to remember.
Afternoon Tea Sittings: Monday: 12.30 pm – 5.00 pm (last seating at 3:15 pm) or Tuesday – Sunday: 12.30 pm – 7.00 pm (last seating at 5.15 pm)
Afternoon Tea Prices: Traditional Afternoon Tea is £80 per person
5. The Goring Dining Room – Royal Quality
With a Royal Warrant from Her Majesty The Queen, The Goring Dining Room serves scones that truly fit for a queen.
As the holder of The British Tea Guild Council's Top London Afternoon Tea Award and The Award of Excellence, their scones are crafted to perfection, with a wonderful balance of crumbly exterior and soft interior. The accompanying clotted cream and preserves are of exceptional quality, making each bite a royal experience. The Goring offers a quintessentially British scone experience in a beautiful dining room with impeccable service.
Afternoon Tea Sittings: In The Dining Room – Saturday 1pm, 1.30 pm, 3 pm and 3.30 pm
Afternoon Tea Prices: Traditional Afternoon Tea is £65.00 per person
6. Fait Maison – Homemade Happiness
Fait Maison, a cosy café with a focus on homemade delights, is home to Internationally renowned Chef Om Waleed.
They offer a selection of freshly baked scones in a relaxed and welcoming atmosphere. Their scones are a testament to the happiness of homemade baking. Light, fluffy, and served with clotted cream and a variety of preserves, these scones provide a taste of home. Fait Maison is the perfect place for those seeking a comforting scone experience in a friendly setting.
Afternoon Tea Sittings: Served Daily
Afternoon Tea Prices: Classic Cream Tea is £15.95 per person
7. The Dorchester – Park Lane Perfection
The Promenade at The Dorchester, located on Park Lane, offers a scone experience that epitomises timeless luxury.
The scones available are warm raisin and plain scones from our bakery served with a selection of seasonal preserves and clotted cream.
The elegant surroundings and impeccable service make savouring scones at The Dorchester a truly luxurious affair. Whether you're celebrating a special occasion or simply indulging in a scone break, this venue promises perfection.
Afternoon Tea Sittings: Daily: 12.30 pm – 4.30 pm
Afternoon Tea Prices: Traditional Afternoon Tea is £95 per person
8. The Orange Pekoe – Tea Room Gem
Nestled in the charming neighbourhood of Barnes, The Orange Pekoe is a tea room gem that offers a delightful scone experience. Their scones are freshly baked, soft, and served warm with Cornish clotted cream and a choice of preserves. The relaxed and cosy atmosphere of The Orange Pekoe provides the ideal setting for a leisurely scone outing. This tea room is a hidden treasure for scone lovers in London.
Afternoon Tea Sittings: Served Daily
Afternoon Prices: Afternoon Tea is £25.95 per person
9. Brown's Hotel – Timeless Luxury
The Drawing Room at Brown's Hotel, located in the heart of Mayfair, offers classic scones in an ambience of timeless luxury.
It is believed that Queen Victoria enjoyed Afternoon Tea in the Drawing Room at Brown's.
Their scones are freshly baked, both plain and golden raisin brown, served with homemade strawberry jam and Cornish clotted cream.
Whether you choose to enjoy your scones in the English Tea Room or on the outdoor terrace, Brown's Hotel ensures that your scone experience is accompanied by a touch of class and sophistication.
Afternoon Tea Sittings: Served Daily
Afternoon Prices: Afternoon Tea is £75 per person
10. Corinthia, London
Situated at Whitehall Place in the heart of London, experience quintessential British hospitality by delighting in afternoon tea within the welcoming ambience of Corinthia London's Crystal Moon Lounge.
It offers an ideal escape from the hustle and bustle of the city, allowing you to unwind as you sip on a selection of their finest teas, and relish a freshly baked scone, all to the soothing melodies of their resident pianist.
Afternoon Tea Sittings: Served Daily
Afternoon Prices: Traditional Afternoon Tea is £75 per person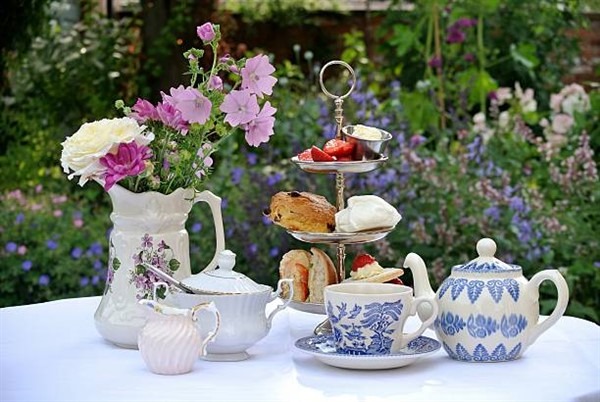 Scone Etiquette
Savouring a scone is not just about taste; it's also about tradition and etiquette. Here are some tips on how to enjoy scones the British way:
Break, Don't Cut: When you have a scone, don't reach for a knife. Instead, break it apart with your hands. This preserves the crumbly texture and prevents any unnatural uniformity.
Clotted Cream First: The age-old debate of cream or jam first continues. In Devon, it's tradition to spread clotted cream first, while in Cornwall, they start with jam. In London, you're free to choose your preference, but for the classic British experience, spread a generous dollop of clotted cream on your scone first.
Jam It Up: After applying clotted cream, add a spoonful of your favourite jam. Strawberry, raspberry, or blackcurrant are popular choices. When it comes to jam, quality matters, so opt for the best you can find.
Don't Rush: After preparing your scone, take your time. Sip your tea, chat with friends, and savour each bite. The art of scone-eating is about relaxation and indulgence.
In Conclusion: A Scone for Every Palate
London's scone scene offers a diverse range of scone experiences, from classic elegance to innovative flavours and dietary alternatives. Whether you prefer the traditional scone with clotted cream and jam or you're eager to explore inventive scone creations, the capital has something for every palate. Embark on a scone-tasting adventure of Afternoon Tea venues in this vibrant city and discover your personal favourites. After all, the joy of scones is best when shared, so don't forget to tell us about your top scone spots in London.
---
Disclaimer: The availability and offerings of scones may vary, so it's recommended to check with the venues for the most up-to-date information and reservations.
Don't miss out on any of London's culinary adventures or other Afternoon Tea experiences. Subscribe to our newsletter or follow us on social media for more foodie insights, restaurant reviews, and culinary tourism recommendations. London is a treasure trove of flavours, and we're here to guide you through it.