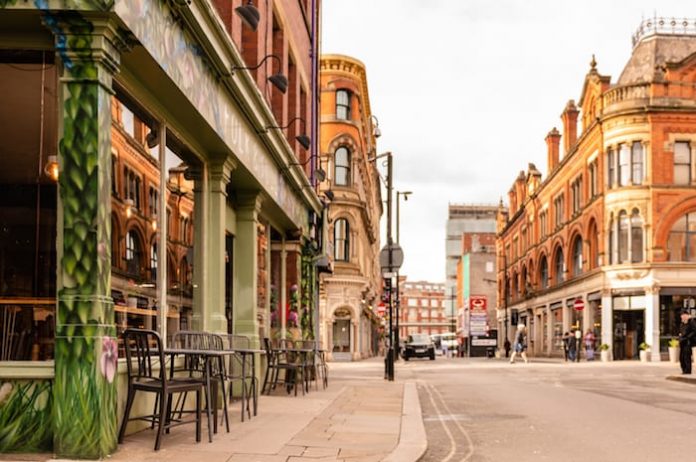 Introduction
Manchester, a vibrant city in northwest England, pulses with an electric energy that is palpable in its bustling streets. Industrial heritage blends seamlessly with modernity as Victorian architecture meets sleek skyscrapers.
The echoes of its musical legacy, from the birthplace of bands like Oasis and The Smiths, reverberate through its vibrant music scene. Cultural diversity thrives, with a multitude of art galleries, theatres, and museums showcasing creativity in all its forms.
The passion for football runs deep, with Manchester United and Manchester City dominating the sporting landscape. Manchester, a city of resilience and innovation, invites you to explore its dynamic spirit.
Before you start on a full day of what Manchester has to offer, you may want a hearty breakfast first. We list eight of the best breakfast restaurants in Manchester City centre.
Here are 8 highly recommended breakfast restaurants in Manchester:
1) Federal Café & Bar
Address: 9 Nicholas Croft, Manchester M4 1EY
This cosy café offers a relaxed atmosphere and offers a range of breakfast dishes and a delicious brunch menu. Enjoy dishes like smashed avocado on toast, poached eggs, and fluffy pancakes. Their speciality coffee and freshly baked pastries are also a treat.
2) Evelyn's Café Bar
Address: G18, Smithfield Building, Tib St, Manchester M4 1NB
Evelyn's Café Bar is known for its stylish interior and delightful breakfast menu. Indulge in scrambled eggs, smoked salmon, or their homemade granola while enjoying the vibrant ambience.
3) Koffee Pot
Address: 84-86 Oldham St, Manchester M4 1LE
A Manchester institution, Koffee Pot serves up a hearty breakfast menu. From traditional full English breakfasts to American-style pancakes, this diner-style eatery is sure to satisfy your breakfast cravings.
4) Moose Coffee
Address: 20 York St, Manchester M2 3BB
Inspired by American diners, Moose Coffee is a go-to spot for a filling breakfast. Their menu features stacked pancakes, breakfast burritos, and a range of dishes with a Canadian twist.
5) The Refuge
Address: Oxford St, Manchester M60 7HA
Located in the stunning Principal Hotel, The Refuge offers an elegant setting for breakfast. Enjoy their diverse menu featuring classic dishes like smoked haddock kedgeree, smashed avocado on sourdough, and a range of bakery items.
6) Ezra & Gil
Address: 20 Hilton St, Manchester M1 1FR
Description: Ezra & Gil combines a café and artisanal store and is a popular choice for a relaxed breakfast. Their menu includes healthy options like avocado on sourdough, as well as heartier dishes like shakshuka and French toast.
7) Foundation Coffee House
Address: Sevendale House, Lever St, Manchester M1 1JB
A hip café located in the Northern Quarter, Foundation Coffee House is known for its speciality coffee and delectable breakfast options. Enjoy their smashed avocado, eggs Royale, or choose from their selection of pastries and cakes.
8) Trove
Address: 5 Murray St, Manchester M4 6HS
Located in the suburb of Levenshulme, Trove is a hidden gem for breakfast lovers. Their menu emphasizes locally sourced ingredients and offers a range of tempting dishes, from baked eggs to homemade granola and freshly baked pastries.
In Summary
These popular breakfast venues in Manchester offer a variety of options to suit different tastes and preferences, ensuring a delightful start to your day in the city.
Find a Place to Stay in Manchester